RingCentral Meetings review
RingCentral Meetings is a desktop and mobile app from RingCentral designed around video conferencing. The app offers many attractive features for hosting meetings online, including HD streaming, a 500-participant limit, and in-meeting chat. However, RingCentral Meetings can be pricey since it's always paired with RingCentral's business phone and messaging service.
In our RingCentral Meetings review, we'll help you decide if this is the best video conferencing software for your business.
---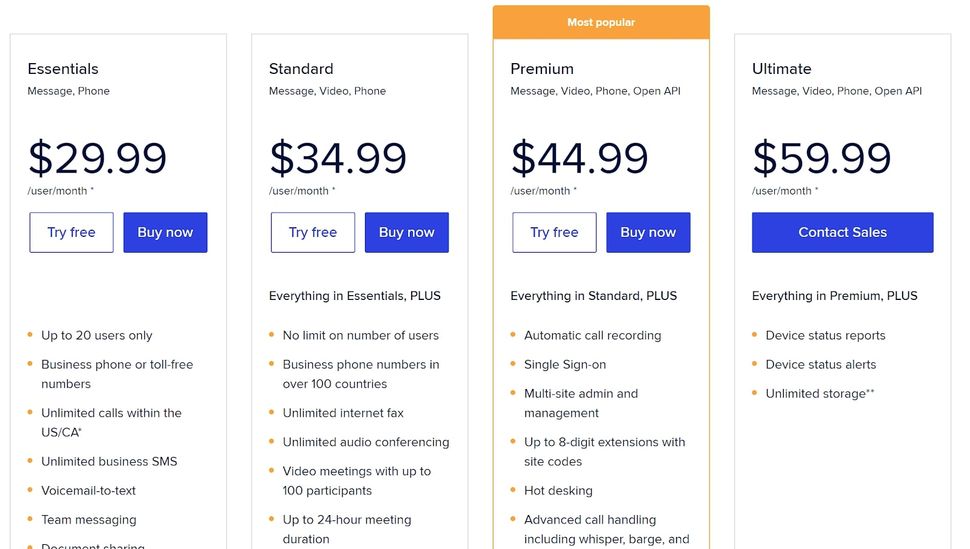 Plans and pricing
RingCentral Meetings is offered as part of the RingCentral Office suite, which includes SMS messaging, phone service, and video conferencing for businesses. The most inexpensive RingCentral Office plan, Essentials, doesn't include video conferencing.
So, you'll need at least the Standard plan, which goes for $34.99 per user per month (discounted to $24.99 per user per month if you pay annually). That enables you to host up to 100 participants for 24 hours at a time, and includes integrations for productivity software like Google Workspace and Microsoft Office 365.
The Premium plan, for $44.99 per user per month ($34.99 if paid annually), enables you to have up to 200 participants per meeting. It also adds single sign-on and integrations for CRM software like Salesforce and Zendesk.
The Ultimate plan, for $59.99 per user per month ($49.99 per user per month if paid annually), adds unlimited cloud storage for your meeting recordings.
Features
RingCentral Meetings boasts all of the features that businesses need to host professional-quality video conferences. All video streams are in 1080p high definition by default. You can share your screen at any time or hand over control of the meeting to a co-organizer for tag-team presentations.
In addition, you can easily share files through an in-meeting participant chat so that everyone has access to the necessary documents for your meeting. RingCentral Meetings comes with integrations for popular cloud storage services like Google Drive, Dropbox, and Box, so you can share files directly from any of these clouds.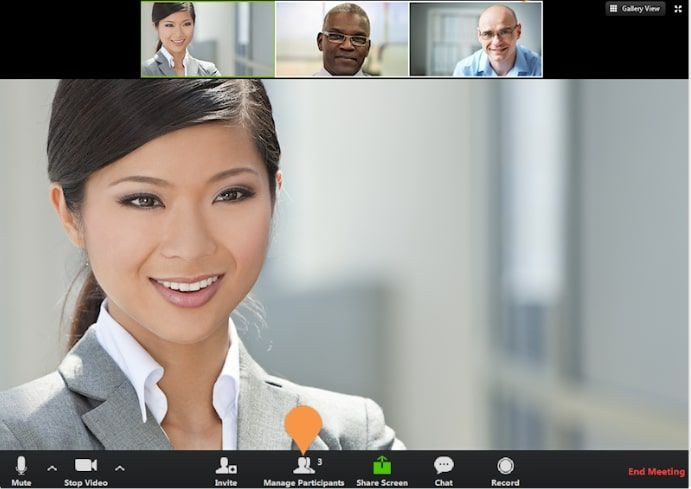 One unique feature that RingCentral Meetings offers is the ability to call anyone from within a meeting room. This enables you to add any participant with a mobile phone on the fly, without sending an invitation and without requiring them to dial in to the conference.
We also liked how RingCentral handles collaboration. There's a built-in virtual whiteboard, which enables participants to annotate a presentation or take notes on the screen. You can split participants into breakout rooms and then call everyone back to the main meeting for a group discussion. 
RingCentral Meetings doesn't enable you to launch a poll or quiz within meetings, but this wasn't a feature we missed all that much.
Interface and in use
RingCentral Meetings is available for desktop and mobile. We found that getting started with the software was straightforward, as you can open a meeting room by yourself and then add participants by phone, email invite, or shared URL. 
We also liked the meeting scheduler, which enables you to send an invitation to anyone via email address or phone number, regardless of whether they're already in your address book.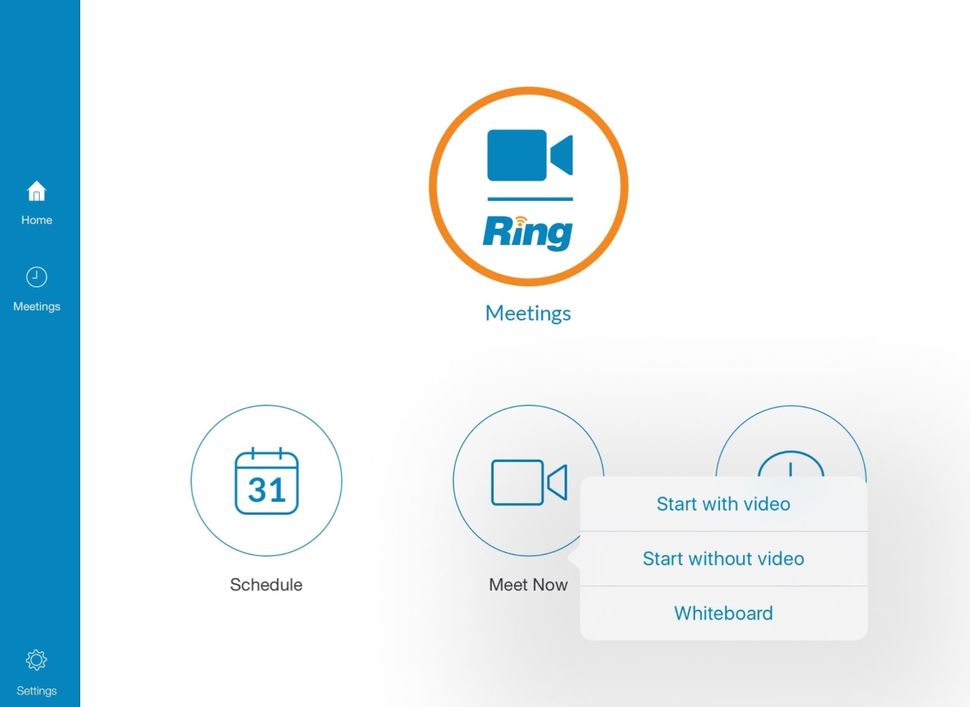 Another thing that we appreciated about RingCentral Meetings was that you can seamlessly switch between devices even while hosting a meeting. Simply join your meeting from another device and RingCentral will recognize you as the host. That said, you do need to log in to the meeting on a second device before turning off your first device, or else the meeting will be ended for everyone.
Importantly, RingCentral offers integrations for a wide range of business software. You can integrate your meeting scheduling with calendars like Google Calendar and Microsoft Outlook. You can also send invitations and access your address books from Gmail and Exchange, or launch a meeting from inside Slack. 
RingCentral Meetings also integrates with CRMs, including Salesforce, Zendesk, and Microsoft Dynamics, so you can instantly launch meetings with customers and save your meeting notes to the CRM.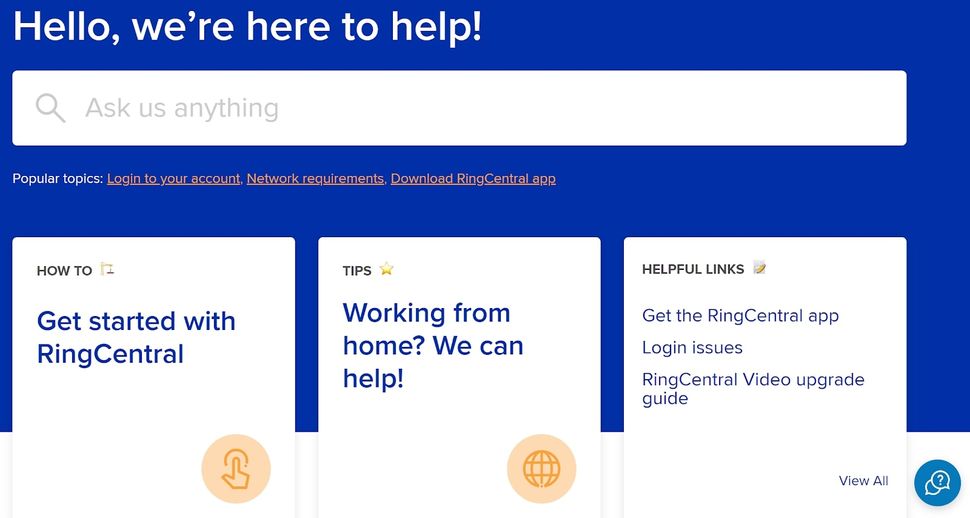 Support
RingCentral offers 24/7 customer support by phone and live chat. The company also has an extremely thorough online knowledge base where you'll find detailed how-to articles, videos, and tips for how to integrate RingCentral Meetings into your workflow.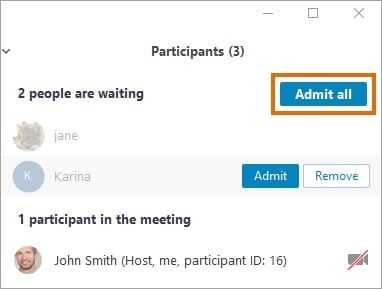 Security
RingCentral Meetings uses 256-bit AES encryption to protect every video conference. Importantly, you can also password-protect meetings or require that new participants receive permission from the host before entering an ongoing meeting. RingCentral also offers two-factor authentication to help keep your account safe from intrusion.
The competition
RingCentral Meetings is very pricey since it comes with business phone and messaging services. If you just want video conferencing, GoToMeeting offers many of the same features, along with unlimited cloud storage for meeting recordings, for $19 per user per month. You can host up to 250 participants per meeting, and there are no limits on how long your meeting can last.
Final verdict
RingCentral Meetings is a good choice if you need not only video conferencing, but also business phone and messaging. For the money, the RingCentral Office value represents an excellent value. 
We especially appreciated that RingCentral Meetings integrates with a wide range of business software and offers the security features and support you'd expect from a professional video conferencing solution. All that said, RingCentral Office is very expensive if you just want a standalone video conferencing software.
You can sign up for RingCentral Meetings here

.